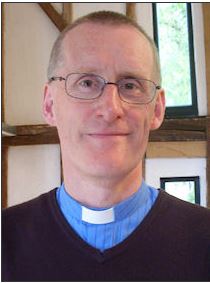 The churchwardens are delighted to announce that Rev. David Payne has been appointed as Priest-in-charge for the Benefice of Silsoe, Flitton and Pulloxhill. David is currently the Vicar of Bottesford, Muston, Redmile, Plungar and Barkestone in the Vale of Belvoir (Leicester Diocese) and Deanery Pastoral Ministry Enabler. David and his family are expected to move into the Silsoe Vicarage towards the end of October and he will be licensed by Bishop Alan on 10 November. Below David has very kindly provided an introduction to himself and his family.
We look forward to welcoming David and Jo to our Benefice and to our communities.
'All about the Paynes'
It's beginning to sink in that I've been invited to become your next Vicar, and Jo and I are very much looking forward to joining in the life of your community. The experience of being recruited by Zoom meeting and socially-distanced interview seems slightly unreal, but in about ten weeks time we will be in the Benefice in person and we have begun to pack.
So what can I tell you about the Paynes? I've been a Vicar for 25 years now, serving in villages and market towns in various parts of the country. I grew up in Peterborough (hence my unfortunate choice of football team), and met Jo, my wife, whilst we were at university in Wales. We began married life in Bedford back in the last century, and my brother and his family still live locally. It will be good to return to the area and to the Diocese of St. Albans where I did some Vicaring until 2014. I enjoy long-distance walking, writing and the theatre, and my claim to fame is that I once worked on the Sooty Show – quite possibly the only Vicar in the Church of England to have done so.
Jo is a medical librarian by trade, who used to work at the L&D, but these days occupies herself with exam invigilation and various voluntary activities, including fundraising to refurbish a skate park in our current village and promoting fair trade. She plays the cello and in the lockdown has become a keener follower of crime drama than she intended.
We have two grown-up sons – Simon, who is married to Molly and lives in Lincoln, and Ben, who is about to begin a second year studying software engineering at Newcastle University. Simon is keen on anything to do with drama, whilst Ben offers a very reasonable dog-walking service when in residence.