Supporting Flitton Church
We welcome all offers of help and support, and donations are essential to keep the Church open and active in our villages.  There is a range of groups who help with running and maintaining the church, some are regular churchgoers, and some just love the building or the history or want to be part of the local community.  All are welcome and whatever you can offer will be valued. Scroll down to find out some of the things we need, but if you have any other skills you think we could use, contact one of the churchwardens.
Donations:
If you would like to make a donation to Church funds there are many ways you can do this apart from putting cash on the collection plate.
You can contribute by bank transfer at any time, or set up a standing order to our bank account:  Account name:  Flitton Parochial Church Council  Barclays Bank: Sort Code: 20-92-54 Account Number: 90239682.
Please contact our Treasurer, Angela Ayres  – FlittonTreasurer@3churches.uk or 01525 860723 if you need any help or if you want us to claim gift aid on your donation.
Donations of any amount are always welcome. 
We have an active flower arranging group but are always looking for additional help. If you would like to volunteer please contact Lesley Arthur on 01525 713325 or arthur.r@sky.com. No previous experience needed – if you can plonk a bunch of flowers in a vase, you'll be welcome!
Do you like cleaning?  There is, of course,  a team who keep the inside of the church clean and polished.  The duties are 'light' and we are happy to accept any help you can offer, either on an occasional or regular basis; group cleaning sessions are usually during the week but the timing is dependent on the schedule of events and services. However, refreshments are always provided, including homemade baking.
For more information please contact Margaret Butt on 01525 862170 or mkatebutt@yahoo.co.uk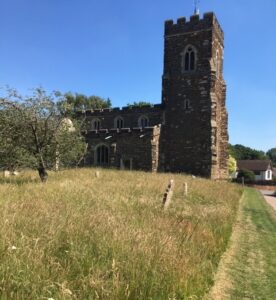 Are you an 'outdoors' person?  Would you like to help maintain your local parish churchyard?
As you might imagine, there is quite a lot to do which can be split between grass cutting/strimming and weeding/path clearance. We are looking for volunteers for 2 rotas if possible from the spring through to the autumn who would be happy to work on therir own. Social distancing is not an issue!
If you would like to join this group please contact Simon Sadler on 01525 861727 or flittonsadler1@btinternet.com
Ancillary Helpers
There are many other ways in which you can help to keep your parish church 'open for business' and to preserve it for future generations.  They range from welcoming celebrants to our services and providing refreshments afterwards to fund raising activities run throughout the year; where an extra pair of hands is always welcome.  Just contact one of our PCC members for more information.