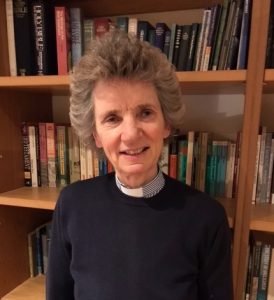 Canon Lynda Klimas was appointed an Honorary Chaplain to the Queen in February 2022.  Lynda is the Rector at St Mary the Virgin in Clophill and is the Rural Dean for the  Ampthill and Shefford Deanery, of which this Benefice is a part.
Lynda was born and raised in Bedfordshire and worked in the Civil Service before ordination, including as an Executive Officer in the DHSS in Bedford. She studied Theology in Cambridge and moved to Durham for theological training. She was ordained deacon in St Albans Cathedral in 1990 and was among the first women to be ordained priest in 1994.
Commenting on her appointment, Lynda said:
"I feel greatly honoured to be appointed a Chaplain to the Queen. I met Her Majesty when I was Vicar of Moggerhanger, when she visited St John's Hospice, but I doubt if she remembers me!
"I also met the Duke of Edinburgh when I received my Gold Duke of Edinburgh's award.
"Although I am deeply honoured I feel that the honour is not mine alone. I feel it is rightly shared will all those in the parishes who have supported me where I have served.
"It has not only been a privilege to have been ordained for thirty two years but also to have served in St Albans Diocese. I now look forward to my new role and with God's grace I pray that I will fulfil to the best of my ability.
"I have no idea why I was chosen as I am just an ordinary parish priest but perhaps because God can do extraordinary things through people like me when we put our trust in him."