Monday 26 September – Flitton Harvest Supper & Auction of Produce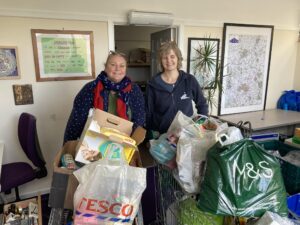 Thank you so much to all those who have donated to our Food Bank and Harvest Festival collections. The donations were given to The Need Project. This excellent Christian organisation gives food parcels to people in need across Central Bedfordshire.
Jo Holt took another donation to the Food Bank and felt that I needed to share this with you that he Need Project in Stotfold were so very grateful, and even gave her a lovely bunch of flowers. During their chat, the chap told her that they give away £29,000 worth of food every month!   What we do is so desperately needed and gratefully received.