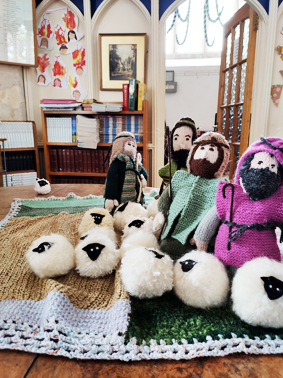 16/17/18 September – Flitton Bible Yarns Exhibition
Update from Margaret
The Knitted Bible Exhibition was amazing – even more effective than I had expected. It was lovely to see so many people. A huge thank you to all helpers, cake bakers, craft makers, jam makers etc. Everyone who came said how impressed they were with the displays and how nice our church looked. It took 2 days to put up and then a morning to pack it all away again but it was worth it.
Think your knowledge of the Bible is a bit woolly?
Then come and discover stories of the Bible through an extraordinary and beautiful exhibition of hand knitted scenes.
Can you guess which story our photo is depicting?
Friday 16, Saturday 17 and Sunday 18 September at Flitton Church from 10:00 am to 4:00 pm.
Entry is free but we welcome donations.
There will be cream teas and cakes served in the Church.
If you would like to help by sponsoring a particular scene, please contact Jo Holt  jo_holt@sky.com . Sponsorship is £10 per scene and there is a good choice for you from the Garden of Eden and Old Testament stories to Christmas and Easter. 
It will be a wonderful weekend – perfect for children, families and everyone. 
For more information call Jo Holt on 01525 792777