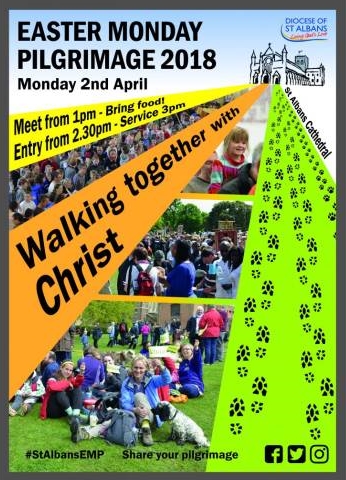 How will you spend this Easter Monday? Why not join Ian and Christine Smith and other pilgrims from across St Albans Diocese to celebrate the risen Christ at St Albans Cathedral. 
Now in its eighth decade, the annual Pilgrimage and service have become a family event which now includes grandparents, parents, young children (in pushchairs), babies (in prams), the family dog (on a lead) … and of course muddy boots! All are welcome.
We gather on Easter Monday, 2nd April, in the Abbey Orchard around 1.00 pm for a picnic and games together. We then join the procession into the Cathedral for the Easter Monday Service which begins at 3.00 pm. The service finishes by 4.30 pm in plenty of time to walk or drive home.
Subject to weather…. Ian and Christine will be walking in from St Mary's Redbourn from around 10:30am walking through the water meadows and woods to Verulamium, then through the park to the abbey – walk with us or meet us there and share the most amazing act of worship with around a thousand pilgrims from all over the Diocese.
Contact Ian for more details: ian.smith@3churches.uk