31 July – Pet Service at Silsoe
Daisy the Dachshund meeting one of Rev Louise's guinea pigs at the Pet Service at Silsoe.  We had dogs, guinea pigs and rabbits at the Pet Service, plus some cats given a mention but not there in pawson!
All the animals were very well behaved and even joined in the service with some barked responses at appropriate times.
24 July 2022 – Afternoon Tea at the Vicarage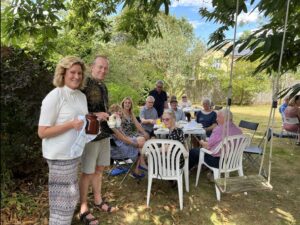 Thanks to Revs Simon and Louise for hosting afternoon tea at the Vicarage.  It was a lovely afternoon with a surfeit of delicious cakes plus a great opportunity for Simon and Louise to get to know more of their new parishioners.
The quite strong breeze kept us cool – whilst Martyn and Gordon showed us how to hold on to our hats!
16 July 2022 – A successful coffee morning at Pulloxhill
The weather was warm but we still welcomed a good number of visitors to our coffee morning on 16th July.
Bacon baps and cake were consumed, raffle and lucky dip prizes were won, the quiz was pondered over.
But the highlight of the morning was meeting Simon and Louise, our new vicars, who joined us for a while to chat to us all.
A thoroughly enjoyable morning which raised nearly £400 for church funds.
Thank you to everyone who contributed to this friendly community event.
13 July 2022 – Licensing of Rev Simon Moore and Rev Louise Moore
It was a great evening on Wednesday 13 July when Reverends Simon and Louise Moore were licensed and installed as our new Vicars by the Bishop of Bedford and the Archdeacon of Bedford in front of family, friends, colleagues and parishioners from the old and new parishes.
After the service, people were able to mingle over refreshments at Silsoe Village Hall.
You can watch a recording of the Licensing Service and see more pictures here
2 July 2022 – Silsoe Fun Dog Show

It was great to see so many people out in force to support the Silsoe Community Society Fun Day and the Silsoe Parochial Church Council Dog Show.
Thank you to everyone who took part in the Dog Show or had a go on the Doggie Tombola – you helped us raise enough money to cover either the cost of cutting the grass in the Churchyard for the next 2 or 3 months  or pay our buildings insurance for 3 months.
You can see pictures of all the winners here and a great selection of doggie photos from the day here